alarm_on Autumn Sales
Valid until
Armchair with Modern Design and Patchwork Armrests Patchy Chic
visibility
other people are looking at this product right now!
card_giftcard All the prices include VAT
ProduceShop Price:
€159.95
Save €85.00
Estimated delivery date:
Availabile from
help_outline
The delivery date is estimated and may vary in case of unforeseen circumstances.
Fully secure payment methods
Free shipping until Tuesday
Return within 14 days
Order fullfilment within 24 hours
Safe and appropriate packaging
Brand New Product
Buy this product with:
Fanciful and one of a kind, with its unmistakable patchwork style, the Patchy Chic armchair will color your interior and make your moments of leisure even more comfortable!
In addition to the aesthetic side, the Patchy Chic armchair will become an object of desire for all your guests who will be attracted not only by the incredible modern design, but above all by its generous padding that will invite you to sit down without hesitation. The supporting structure is made of sturdy wood, with light-colored feet that recall the Scandinavian style and which guarantee excellent stability on any type of surface; the lining is made with the amazing patchwork effect, evident in the choice of materials and fabrics, which gives life to a combination of colors to bring a wave of originality and good humor to any of your living spaces. The high and enveloping backrest is accompanied by a seat with wide and very comfortable armrests, ideal for relaxing after a tiring day of work, for reading a good book or for indulging in total idleness. The geometric pattern of the fabric frames the pattern of the colors used in the upholstery and makes it a particularly fashionable and simple armchair model to combine with any style of furniture, whether it is retro, modern or more classic. In short, a true work of art that cannot be missed in your living room or to be placed in the bedroom as a multicolored support point and perfect to combine with the Solum pouf from our catalog to create a welcoming and sparkling reading corner.
ProduceShop selects only the best products for each category based on qualitative and aesthetic characteristics with the aim of distributing on the market only items that fully satisfy the needs of its customers.
Technical features:
Dimensions: 68 x 76 x 98 cm (width, depth, height)
Seat height from the ground: 42 cm
Seat width: 44 cm
Seat depth: 50
Supporting structure in sturdy and durable wood
Cover in multicolored fabric with patchwork technique
Seat with padded armrests for excellent comfort
High and enveloping backrest
Wooden legs with excellent stability
Stable and resistant armchair for everyday use
Perfect as an addition to any style interior
Trendy and modern design ideal for domestic and public environments
Precise construction in detail
Quality materials and easy to clean
Quick and easy cleaning
Excellent quality / price ratio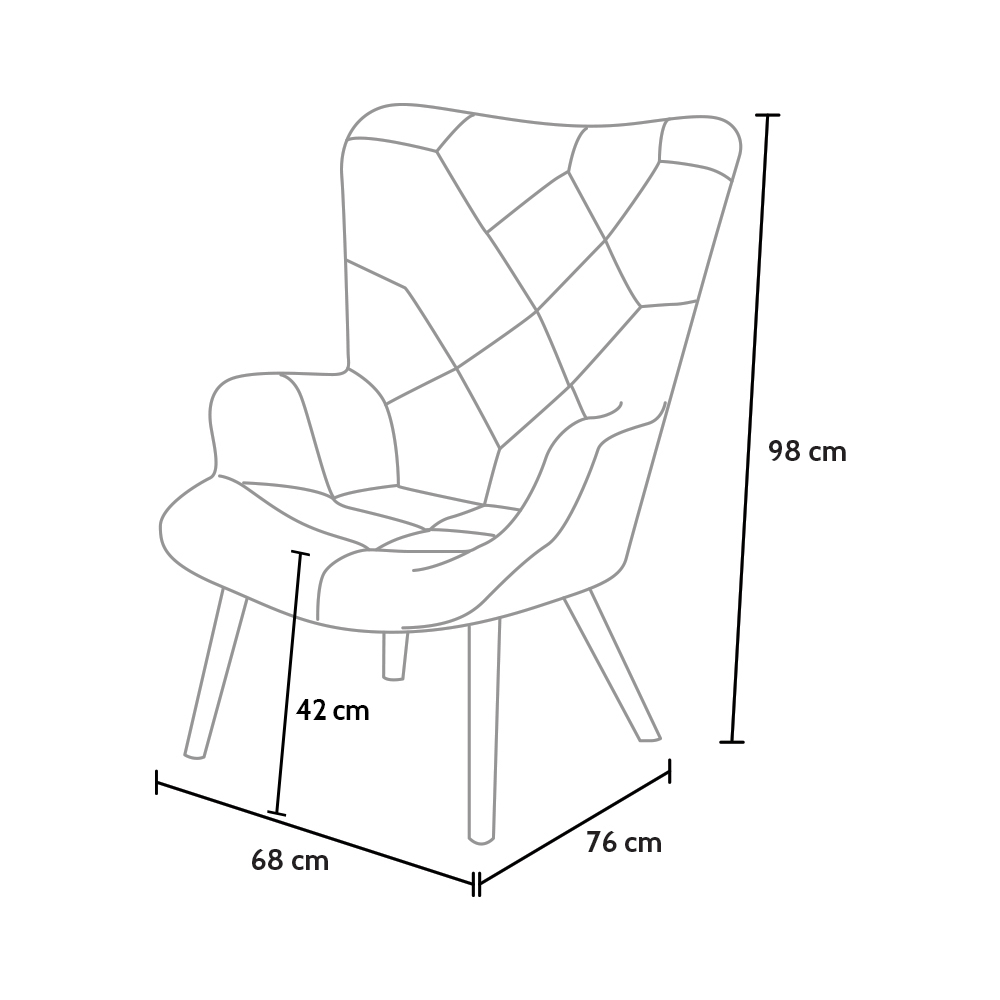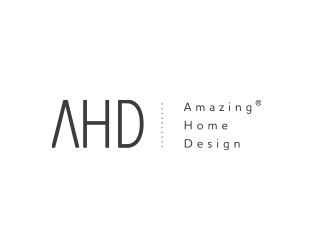 Data sheet
Compositions

Textile

Height (cm)

92

Width (cm)

68

Depth (cm)

76

Length (cm)

76

Models

PATCHY CHIC

Coloration

Patchwork

Ean13

7640255936674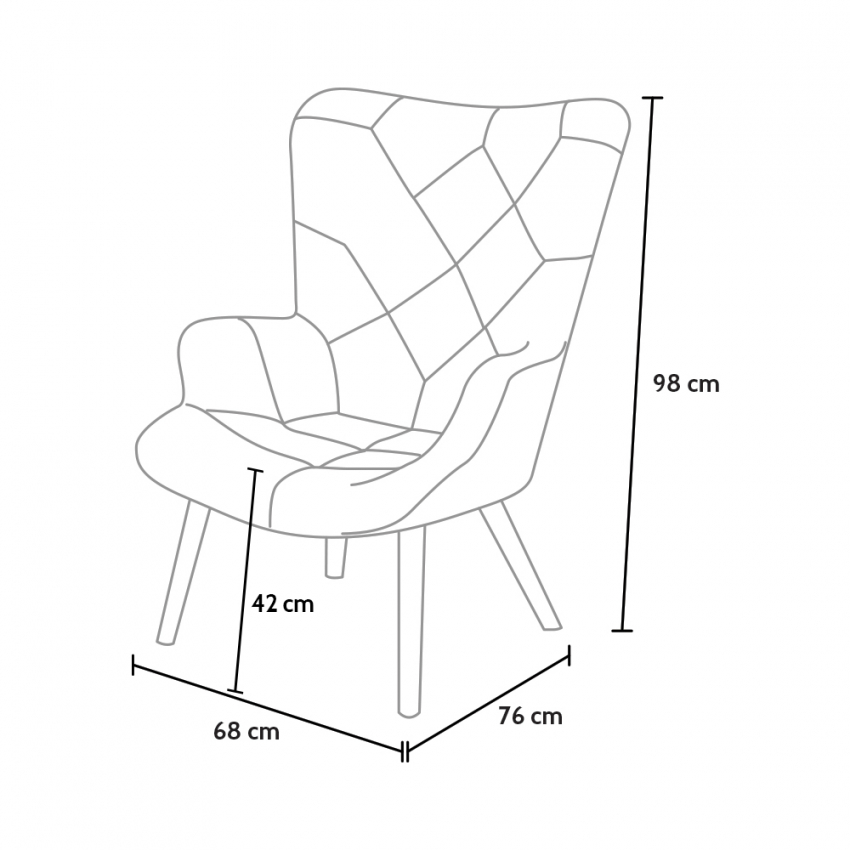 Ask for free consulting with our architects and interior designers!
ProduceShop Personal Designer is composed by a team of architects and interior designers that offer their expertise to help you choose your next indoor and outdoor furniture
According to your requests, we will offer you a free consultation. This service is offered to maximize your satisfaction!


You buy? ProduceShop rewards you!
Discover the features of ProduceShop Cashback now!
The ProduceShop Cashback balance is accumulated for each purchase. You place an order and we generate a voucher worth 3% of your last purchase.
Every time you make a purchase, your balance is updated in your Personal Account for 6 months. If after 5 months you still haven't used it, we will send you a reminder, so that you can use it as soon as possible (and before it is cleared).
You can use your ProduceShop Cashback balance of up to 30% of the value of your cart, for orders up to 200 euros, and 50% for orders over 200 euros. Let's take an example: you have accumulated a balance of 120 Euro, and your next purchase is 200 Euro in total; then 50% of the cart value (100 Euro) will be used. The rest will remain available in your account for future purchases.
However, please note that the use of the ProduceShop Cashback balance cannot be used in combination with other discount codes, vouchers and customised offers.
Try it now!
Is the product out of stock and you missed the opportunity to buy it?
Don't worry, starting today you can pre-order the desired item at the promotional price you see online right now.
What is a pre-order?
Pre-ordering allows you to reserve a product easily and without inconveniences.
It allows you to order an item, to avoid checking every day if it is back in stock.
As soon as the product is in stock, we will proceed with the shipment to your home or place of choice.
When will the pre-order payment be charged?
You will be charged for the full amount on the same day as the pre-order.
When will I receive the product?
With a pre-order, you will have priority on receiving the product, so you will be the first on the list to receive it as soon as it is back in stock.
You will also have the certainty of paying today's discounted price and, above all, of securing the "free transport" promotion in case of changes in the future (price increases, promotions expiration, etc.).
Can I purchase pre-order products together with other items, in a single order?
Of course, yes, by choosing one of the two options below:
a) Single delivery: We will only deliver your entire order when all items are available. In this case you can easily add pre-order products and available products to your basket.
b) Multiple deliveries: We will deliver the available products first and then ship the ones in pre-order when available. In this case, we advise you to create two separate orders: one for the items that are immediately available and one for the items available for pre-order.
How can I pre-order?
You can pre-order by simply filling in the form below and our customer care will take care of the rest
16 other products in the same category: