On sale!
-€410.00
Out-of-Stock
New version 2023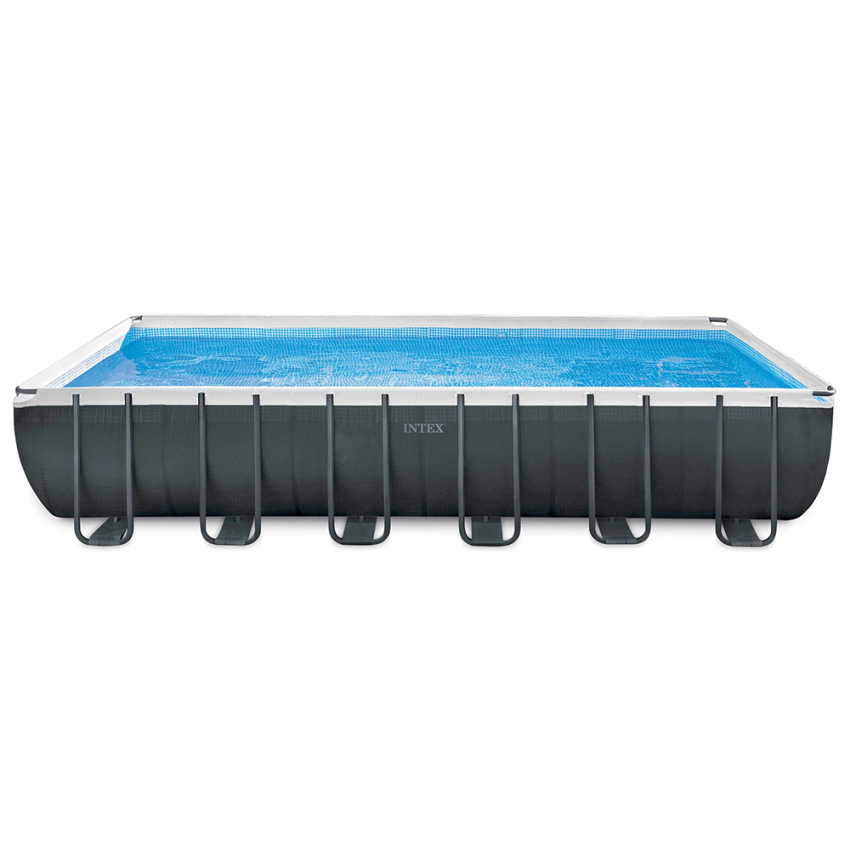 alarm_on Autumn Sales
Valid until
Intex 26364 ex 26362 Ultra Xtr Frame Above Ground Pool Rectangular 732x366x132
visibility
other people are looking at this product right now!
card_giftcard All the prices include VAT
ProduceShop Price:
€1,069.95
Save €410.00
Estimated delivery date:
Availabile from
help_outline
The delivery date is estimated and may vary in case of unforeseen circumstances.
Fully secure payment methods
Free shipping until Tuesday
Return within 14 days
Order fullfilment within 24 hours
Safe and appropriate packaging
Brand New Product
Intex 26364 Ultra Frame above ground pool with tubolar supports, sand filter, cover, bottom sheet and ladder, perfect to enjoy your summertime in your garden with your friends and family.
Intex 26364 (former 26362) above ground frame pool pools is easy to assemble, thanks to a new method that does not require clips to connect its metal parts. 
Its elegant grey colour enhances the value of this product, which is extremely strong, flexible and durable. It has a thickness and a section greater than traditional frame models, to increase its resistance to water pressure and to wear and tear. All corners of this pool are rounded and smoothed for the safety of your children.
Its PVC uses the special Super Tough™ technology and consists of three layers: an inner layer and an outer PVC layer, both thick and resistant, and an intermediate layer of polyester.
Technical Characteristics:
Intex Ultra Frame 26362 above ground pool
Easy to assemble, thanks to a new method that does not require clips to connect its metal parts.
Measures: 732 x 366 x 132cm
ULTRA FRAME rectangular treated steel pool, resistant to rust and corrosion.
It is made of Super Tough™ PVC, consisting of three layers: an inner layer and an outer PVC layer, both hick and resistant, and an intermediate layer of polyester.
The pool will be supplied with the following accessories:
7,900 L/h sand filer pump for water filtering (26646)
Ladder
Cover
Bottom Sheet
Measures:
Pool: 732 x 366 x 132 cm
Bottom: 787 x 422 cm
Water capacity: 31.805L at 90%
The product is supplied with a European plug, for the UK market the item is only suitable for use with a Socket Converter.

Data sheet
Compositions

PVC, Steel, Polyester

Height (cm)

132

Width (cm)

366

Length (cm)

732

Models

26364

Shape

Rectangular

EAN

6941057413822

Dimensions

7 - 7,99 m

Filter Pump

26646

Ean13

6941057413822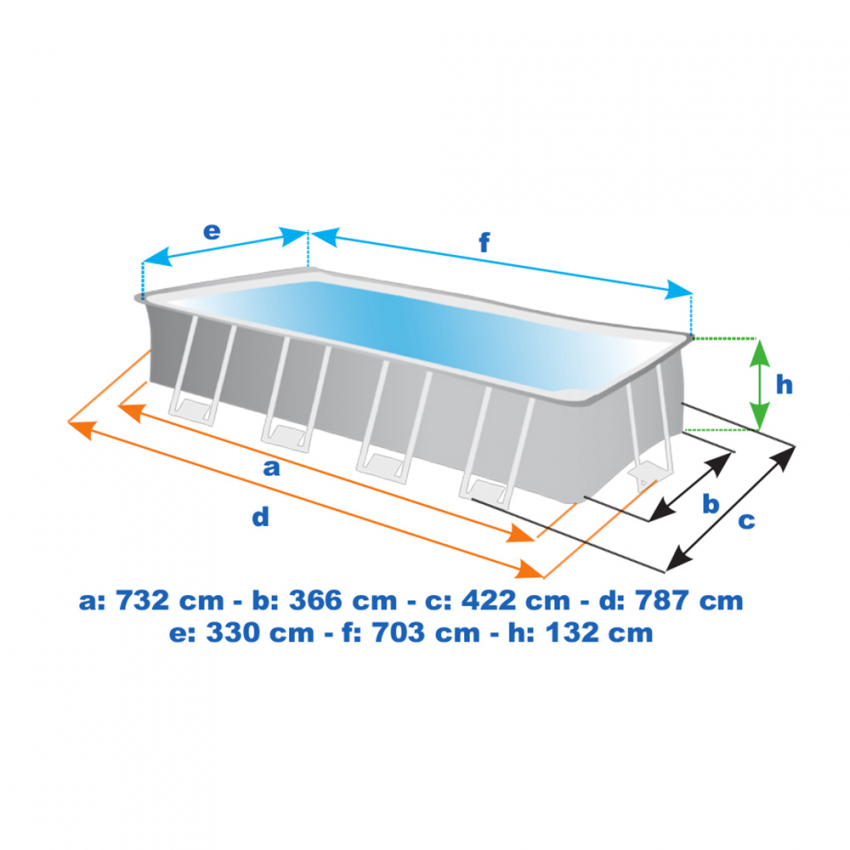 Ask for free consulting with our architects and interior designers!
ProduceShop Personal Designer is composed by a team of architects and interior designers that offer their expertise to help you choose your next indoor and outdoor furniture
According to your requests, we will offer you a free consultation. This service is offered to maximize your satisfaction!


You buy? ProduceShop rewards you!
Discover the features of ProduceShop Cashback now!
The ProduceShop Cashback balance is accumulated for each purchase. You place an order and we generate a voucher worth 3% of your last purchase.
Every time you make a purchase, your balance is updated in your Personal Account for 6 months. If after 5 months you still haven't used it, we will send you a reminder, so that you can use it as soon as possible (and before it is cleared).
You can use your ProduceShop Cashback balance of up to 30% of the value of your cart, for orders up to 200 euros, and 50% for orders over 200 euros. Let's take an example: you have accumulated a balance of 120 Euro, and your next purchase is 200 Euro in total; then 50% of the cart value (100 Euro) will be used. The rest will remain available in your account for future purchases.
However, please note that the use of the ProduceShop Cashback balance cannot be used in combination with other discount codes, vouchers and customised offers.
Try it now!
Is the product out of stock and you missed the opportunity to buy it?
Don't worry, starting today you can pre-order the desired item at the promotional price you see online right now.
What is a pre-order?
Pre-ordering allows you to reserve a product easily and without inconveniences.
It allows you to order an item, to avoid checking every day if it is back in stock.
As soon as the product is in stock, we will proceed with the shipment to your home or place of choice.
When will the pre-order payment be charged?
You will be charged for the full amount on the same day as the pre-order.
When will I receive the product?
With a pre-order, you will have priority on receiving the product, so you will be the first on the list to receive it as soon as it is back in stock.
You will also have the certainty of paying today's discounted price and, above all, of securing the "free transport" promotion in case of changes in the future (price increases, promotions expiration, etc.).
Can I purchase pre-order products together with other items, in a single order?
Of course, yes, by choosing one of the two options below:
a) Single delivery: We will only deliver your entire order when all items are available. In this case you can easily add pre-order products and available products to your basket.
b) Multiple deliveries: We will deliver the available products first and then ship the ones in pre-order when available. In this case, we advise you to create two separate orders: one for the items that are immediately available and one for the items available for pre-order.
How can I pre-order?
You can pre-order by simply filling in the form below and our customer care will take care of the rest
12 other products in the same category: